Orthopaedic Surgeon | Sports Medicine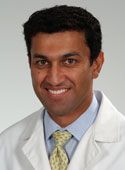 Misty Suri, MD, M.S.
Misty Suri, M.D. is a Fellowship-Trained, Board Certified Sports Medicine Orthopedic Surgeon. He is a surgeon, clinician, educator and researcher on the forefront of Sports Medicine in the world. Dr. Suri is Director of Medical Services and Head Team Physician & Orthopedic Surgeon for the New Orleans Pelicans; New Orleans Saints Team Physician (2007-2017); University of New Orleans (Division I) Head Team Physician; consultant to LSU Athletics; as well Head Team Physician for several high schools in the New Orleans area (John Curtis Christian, John Ehret, West Jefferson, Ursuline, Academy of Our Lady, Benjamin Franklin, Fisher, and Helen Cox).
Dr. Suri graduated from Benjamin Franklin High School in New Orleans. He completed his premedical studies at the University of Pennsylvania, earning a Bachelor of Arts in Biology. He attended medical school at The Chicago Medical School, graduating with a Masters of Science in Pathology as well as an M.D. degree. During medical school, Dr. Suri was honored with membership in the prestigious Alpha Omega Alpha medical honor society.
Following medical school, Dr. Suri returned to New Orleans to complete his Orthopedic Surgery residency at the Ochsner Clinic Foundation. After residency, Dr. Suri received further subspecialty training as a Sports Medicine Fellow at the prestigious Steadman Hawkins Clinic of the Carolinas in Greenville/Spartanburg, South Carolina. While there, Dr. Suri trained under the direction of Richard J. Hawkins, M.D., the renowned sports and shoulder surgeon, and Drs. Steven B. Singleton, Michael J. Kissenberth, Douglas Wyland, Jason W. Folk and Stefan J. Tolan. The Fellowship at the Steadman Hawkins Clinic of the Carolinas provided an ideal learning environment for an aspiring sports surgeon. It was a great educational experience with one of the leaders in the world of sports medicine, Dr. Richard J. Hawkins. During the last month of his Fellowship year, Dr. Suri spent time training under Marc Philippon, M.D., the prominent hip arthroscopic surgeon.
During the one year of Fellowship training at the Steadman Hawkins Clinic of the Carolinas, the Arthroscopy Association of North America (AANA) selected Dr. Suri as one of three Traveling Fellows. Through this great opportunity, Dr. Suri visited 12 orthopedic and arthroscopic centers of excellence throughout the United States over the course of a month. The AANA Traveling Fellowship involved giving lectures and the exchange of clinical and research ideas with many of the leading arthroscopic surgeons in the United States. As a lecturer, Dr. Suri presented his research on microfracture and cartilage healing at the various arthroscopic centers visited during the AANA Traveling Fellowship.
Remarkably, a second Traveling Fellowship was awarded to Dr. Suri, as he was again honored and received the Orthopedic Research Foundation of the Carolinas (ORFC) Traveling Fellowship from Dr. Hawkins, visiting preeminent shoulder orthopedic surgeons in Europe for 1 month. During the ORFC Traveling Fellowship, Dr. Suri visited with and studied under Pascal Boileau, M.D., in Nice, France; Gilles Walch, M.D. in Lyon, France; Laurent Lafosse, M.D., in Annecy, France; and Alberto Gobbi, M.D., in Milan, Italy.
As a Fellow, Dr. Suri was head team physician for Chesnee High School and assistant team physician for University of South Carolina-Upstate, the Greenville Drive baseball team (Class A Affiliate of Boston Red Sox), and the Colorado Rockies during Spring Training in Tucson, Arizona. Dr. Suri is particularly proud of his service assisting Dr. Hawkins in providing orthopedic and sports medicine care to the students and athletes at the South Carolina School for the Deaf and the Blind. As a Resident he assisted Dr. Deryk G. Jones with the New Orleans Pelicans.
He is member of the American Orthopedic Society of Sports Medicine (AOSSM) and has recently been inducted as a Fellow of the American Academy of Orthopedic Surgeons (AAOS). A member of the Sigma Xi Scientific Research Society, Dr. Suri concentrates his active research interests in the areas of: biological augmentation to healing in sports medicine, shoulder biomechanics and the throwing athlete, the surprascapular nerve in the shoulder, cartilage healing, augmented microfracture and cellular migration during cartilage healing, and hip arthroscopy. Dr. Suri's research studying microfracture and cartilage healing was under the guidance of Juan (Jay) J. Rodrigo, M.D., a pioneer in the field of microfracture surgery and cartilage healing.
Dr. Suri has published a study in the Journal of Shoulder and Elbow Surgery (2008), entitled, "Relationships between ball velocity and throwing mechanics in collegiate baseball pitchers." This highlights Dr. Suri's interest in the in the overhead athlete, and he frequently sees high-level throwers and overhead athletes in his practice.
A two-time tennis champion in medical school and state champion in high school, a varsity letterman in college football; and an avid golfer, soccer, and volleyball player, Dr. Suri enjoys most all athletics.
Dr. Suri's clinical subspecialty practice involves sports medicine and arthroscopic surgery of the shoulder, elbow, hip, knee, and ankle. Dr. Suri is experienced in shoulder surgery, arthroscopic rotator cuff surgery, arthroscopic shoulder instability surgery, biceps tendon surgery, shoulder replacements, reverse shoulder replacements, the Latarjet shoulder procedure for instability, arthroscopic suprascapular nerve decompression, anterior cruciate ligament (ACL) reconstruction, knee arthroscopy and meniscus repair, and complex multi-ligament knee reconstruction.
Dr. Suri has performed over 1000 rotator cuff arthroscopic surgeries, and more than 800 arthroscopic shoulder instability/labral repairs. Another surgery that Dr. Suri specializes in is 'anatomic' ACL reconstructions, having performed more than 1000 ACL surgeries as well.
Pediatric patients are seen frequently in Dr. Suri's sports clinic. Pediatric extra-physeal ACL reconstruction is a highly subspecialized procedure in that it is an ACL reconstruction technique that does not violate the growth plate in pediatric patients that are still growing. This method of ACL reconstruction has long term follow-up and minimizes the risk of any angular growth deformity. Dr. Suri performs the extra-physeal ACL reconstruction in pediatric athletes with ACL tears.
The Tommy John procedure (ulnar collateral ligament reconstruction of the elbow) is also one of Dr. Suri's specialties. This procedure is typically performed on throwers, overhead athletes, or contact athletes.
Having trained under Dr. Hawkins, one of the pioneers in shoulder replacements, Dr. Suri does shoulder replacements regularly, both the conventional type and reverse type, as well as resurfacing shoulder arthroplasty.
Dr. Suri has performed over 800 hip arthroscopic surgeries and regularly performs complex bony work and labral repairs. Dr. Suri is a member of the International Society of Hip Arthroscopy and is on the forefront of this emerging field, both in clinical practice and in research. In addition to the research projects mentioned above, Dr. Suri currently has several ongoing research studies in hip arthroscopy underway. Dr. Suri also has surgical privileges at Children's Hospital where he performs complex pediatric hip arthroscopic surgery. These hip arthroscopy cases at Children's Hospital often involve Perthes' disease or hip arthroscopy after slipped capital femoral epiphysis (SCFE) surgery. One of the current hip arthroscopy research projects was featured in Orthopedics Today.
Dr. Suri is an Associate Master Instructor for the Arthroscopy Association of North America (AANA). He travels to the Orthopedic Learning Center in Rosemont, Illinois to teach orthopedic surgeons how to perform arthroscopic procedures, such as shoulder and hip arthroscopy. He frequently is asked to be a visiting professor or invited speaker for both national and international orthopedic sports medicine meetings.
For cases from out of the region, imaging and documentation can be sent in to the office to Dr. Suri for complementary review and his subsequent surgical recommendations.
Certifications Held
American Board of Orthopaedic Surgery
Certification of Added Qualification in Sports Medicine
Academics
Medical School: FUHS/The Chicago Medical School
Residency: Orthopedic Residency – Ochsner Clinic Foundation, New Orleans, LA
Fellowship: Sports Medicine Fellowship, Steadman-Hawkins Clinic of the Carolinas, Greenville, SC