What to know about shoulder impingement
Shoulder impingement, which people sometimes call swimmer's shoulder, is a condition that causes pain in the shoulder due to a tendon or bursa rubbing against the shoulder blade.
Click here to read more.
Using Your Own Tissue vs. Donor Graft for ACL Surgery
Injury to the anterior cruciate ligament is a devastating injury for athletes of all ages. Treatment usually involves surgery. If you undergo surgical reconstruction, you may have to choose between using your own tissue or using a donor graft.
Click here to read more.
High rate of return to dance seen in dancers who underwent hip arthroscopy for FAI
According to recently published results, 97% of dancers were able to return to dance at an average of 6.9 months after hip arthroscopy. Compared with their preoperative status, most dancers danced at a higher level following surgery.
Click here to read more.
Study suggests surgery better than observation for older patients with meniscus tear
Patients over age 50 who underwent an all inside arthroscopic repair technique had lower rates of subsequent total knee surgery than a similar group that was only observed, according to research presented at the American Orthopedic Society of Sports Medicine Annual Meeting today.
Click here to read more.
Outcomes of non-operatively treated elbow ulnar in professional baseball players
Professional baseball players with a low-grade elbow injury that occurs on the humeral side of the elbow have a better chance of returning to throw and returning to play, and a lower risk of ulnar collateral ligament surgery than players who suffered more severe injuries on the ulnar side of the elbow.
Click here to read more.
Expert tips for reducing running injuries
Most runners are enthusiastic about their sport and take steps to work out safely. But injuries like stress fractures and muscle strains, among others, are common and can sideline you, sometimes for weeks if not months.
Click here to read more.
Types of Knee Braces for Support and Injury Prevention
The use of knee braces in sports medicine is a controversial topic. Knee braces are used for a wide variety of problems and conditions. But do knee braces help?
Click here to read more.
High-intensity interval training increases injuries, study finds
People who engage in high-intensity interval training are at greater risk for injury, especially in the knees and shoulders, a Rutgers study found.
Click here to read more.
Elbow Injuries and Rehabilitation
Stress on this joint can affect the surrounding ligaments and muscles and cause tissue damage. Learn more about elbow anatomy, injuries, and rehabilitation.
Click here to read more.
Increased muscle power may prolong life
Increasing muscle strength is good, but increasing muscle power may be even better for enjoying a longer life, according to a recent study.
Click here to read more.
What to know about hamstring tendonitis
Hamstring tendonitis is an injury to one or both of the hamstring tendons, which are part of the thick band of muscles and tendons called the hamstrings. The hamstring tendons connect the hamstring muscles to the pelvis, knee, and shinbones.
Click here to read more.
An Orthopedic Surgeon Weighs In on Weight Loss
My sister, Leah, is 6 ½ years younger than me. She is my best friend. She is brilliant. And hilarious. And engaging. She is an author and a teacher. She is a guru of mindfulness. And for the past many years, she has been losing a battle with her weight. This morning she announced that enough was enough. She did it publicly in an article on Medium.
Click here to read more.
One of My Toughest Cases
As the former New Orleans Saints team physician and current director of medical services and head team physician for the New Orleans Pelicans, Dr. Misty Suri, a New Orleans native, has cured a number of high-profile athletes over the course of his career. He also is head team physician for the University of New Orleans, and several high schools in the area, and works as a consultant for LSU Athletics.
Click here to read more.
Best Exercises for the Gluteus Medius
The gluteal musculature has been implicated in many different pathologies due to its potential impact on lower extremity biomechanics. Because during weight bearing the femur moves about a fixed patella, excessive femoral internal rotation (IR) and adduction results in increased contact primarily at the lateral facet of the patella.
Click here to read more.
Increased narcotic use seen after shoulder arthroplasty with interscalene block plus Exparel
Patients who received interscalene brachial plexus block plus soft tissue infiltration with Exparel when undergoing primary shoulder arthroplasty used significantly more narcotics postoperatively and had no significant reduction in pain scores in the early postoperative period compared with patients who received interscalene brachial plexus block alone, according to results published in The Journal of Bone and Joint Surgery.
Click here to read more.
Seven exercises for shoulder arthritis
Arthritis can affect any joint in the body, including the shoulder joints. Performing specific exercises on a regular basis can help relieve the symptoms of arthritis, which include pain and swelling.
Click here to read more.
Medicine balls: Exercise tools that add fun to fitness
Consider working out with a medicine ball, an inexpensive fitness tool that's exploding in popularity. This weighted ball helps you develop strength, endurance and even flexibility—and many exercises are done with a partner, adding a fun dimension to workouts.
Click here to read more.
Concomitant rotator cuff, biceps repair led to greater improvement in PROs
Despite inferior baseline patient-reported outcomes, patients who underwent rotator cuff repair with concomitant biceps procedure had greater improvement in outcomes at 1-year postoperatively compared with patients who underwent rotator cuff repair alone, according to results.
Click here to read more.
Large rotator cuff tears had high rate of long head of the biceps tendon pathology
Long head of the biceps tendon pathology was more likely to occur among large and massive rotator cuff tears and tears that involved the subscapularis, according to results published in Arthroscopy.
Click here to read more.
High BMI linked to greater risk of lateral femoral cutaneous nerve palsy after shoulder arthroscopy
Results published in Arthroscopy showed patients with a higher median weight and BMI who underwent arthroscopic shoulder surgery had an increased risk of developing lateral femoral cutaneous nerve palsy.
Click here to read more.
Better, but not clinically important, results with surgery vs no treatment for subacromial shoulder pain
Results from this study indicated arthroscopic subacromial decompression and arthroscopy only both yielded better outcomes for shoulder pain and function among patients who had subacromial pain and intact rotator cuff tendons vs. no treatment. However, the differences between the three groups were not clinically important.
Click here to read more.
See why working out your core muscles is vital when getting back into physical training. Dr. Suri explains why using proper technique is key!
"Today Dr. Suri performed one of the first Matrix Autologous Chondrocyte Implantation (MACI) knee surgeries in the United States. It was the first arthroscopic-assisted MACI surgery in the United States, which enabled a smaller incision to be used, instead of the traditional larger incision."
One of Dr. Suri's patients courtside at a Pelicans away game in New York
Dr. Misty Suri in Shanghai, China at the NBA Global Games representing the New Orleans Pelicans as Director of Medical Services and Head Team Physician, with Head Coach Alvin Gentry (center) and Associate Head Coach Darren Erman (right).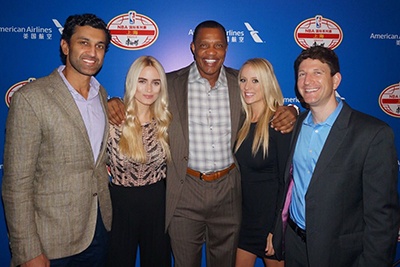 Dr. Misty Suri has been invited as guest to Brazil Metcalf Meeting combined with Regional Meeting from June 29th to July 02nd, 2016.
2016 NFL Pro Bowl in Honolulu
Working on Darren Woodson's elbow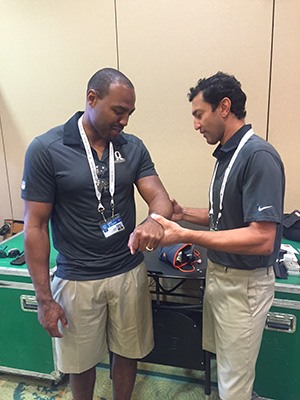 With former Saints players Darren Sproles and Malcolm Jenkins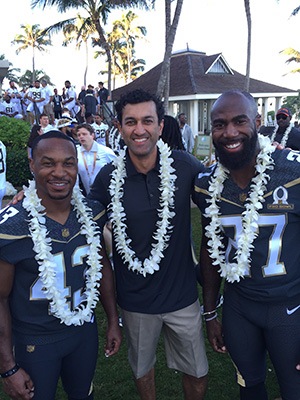 With Cam Jordan from the Saints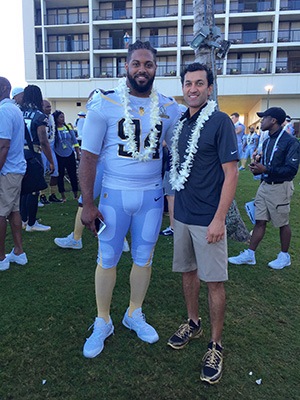 Arthroscopic Suprascapular Nerve Decompression

Ulnar Collateral Ligament Reconstruction Intraoperative Pictures
Results of arthroscopic repair comparable to debridement for labral tears
A recently presented study shows equivalent short-term results between patients with femoroacetabular impingement who had labral tears treated with either arthroscopic repair or debridement and indicated age as a predictor of outcomes.
"In this comparison of the two groups, preoperatively they were the same and postoperatively they were the same as well," Misty Suri, MD, said during his presentation.
He added, "Our initial results at 13 months showed that age was the only predictor of a good outcome."
Click here to read more.
Arthroscopic Hip Surgery with Dr. Misty Suri – Part 1
Arthroscopic Hip Surgery with Dr. Misty Suri – Part 2
Arthroscopic Hip Surgery with Dr. Misty Suri – Part 3
---
You will need the Adobe Reader to view and print these documents.